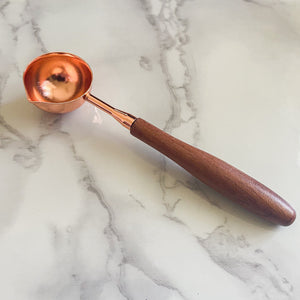 Rose Gold Wax Spoon with Rosewood Handle
A beautiful rose gold colour with a rosewood handle, deeper than our Stainless Steel Wax Spoon.
Stamping Directions:
Add 2-4 beads to a wax spoon, using a tea light and wax stove to melt the wax. Wait until wax is completely melted, but not bubbling, and pour onto your stamping surface. Add flower petals or foil per your design. Press wax head into the sealing wax and let harden. Remove stamp and trace with metallic marker if you wish.
Exercise caution when cleaning wax from the spoon with a paper towel as the surface will be extremely hot.
Love so much!!!
I've been waiting for a bigger spoon! This one is perfect!! I absolutely love the colors. I just need a bigger space to hold all of my colors. They are so pretty!!
It's very beautiful and useful :)
---