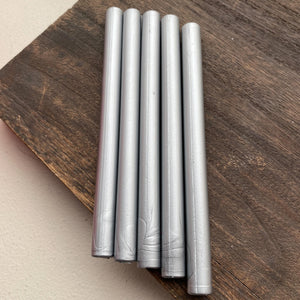 Sterling Wax Sticks
Introducing our premium wax sticks, specially designed for flawless seals. Each wax stick in our collection has a diameter of 11mm and a length of 135mm, making it the perfect fit for our wax dispenser or a low temperature glue gun. Each order includes 5 wax sticks, providing you with an ample supply for your sealing projects.
Compatible with our wax dispensers, our wax sticks ensure a smooth and consistent melt, allowing you to achieve professional results with ease. Simply load the wax stick into your dispenser, follow our sealing instructions, and effortlessly dispense the melted wax onto your desired surface. Each wax stick creates approximately six seals, allowing you to complete multiple projects with just one stick.
With a wide range of colors to choose from, you can add a personal touch to your seals. Whether you prefer classic hues like red and gold or contemporary shades like rose and green, our wax sticks offer endless customization possibilities to suit any occasion or personal style.
Crafted with durability in mind, our wax sticks create long-lasting seals that withstand the test of time. Whether you're a stationery enthusiast, a wedding planner, or a business professional, these wax sticks elevate your creations with a touch of elegance.
---