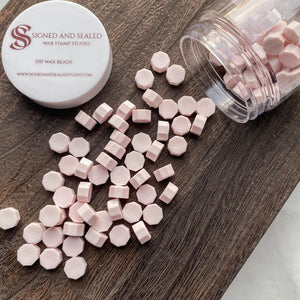 Pastel Blush Wax Beads
These wax beads are a classic way to make wax seals. With over 40 different colours, we hope you'll find your favourite. Use one colour alone, or marble together for a uniquelook.
New colours dropping every season. If you're interested in a colour we currently don't have available please send us an email. All wax beads are ready to ship.

All wax beads ship in a re-usable container with 100 beads.
Stamping Directions:
Add 2-4 beads to a wax spoon, using a tea light and wax stove to melt the wax. Wait until wax is completely melted, but not bubbling, and pour onto your stamping surface. Add flower petals or foil per your design. Press wax head into the sealing wax and let harden. Remove stamp and trace with metallic marker if you wish.
So pretty!
This was the perfect color for my friend's wedding invitations. It's the perfect soft pink without any metallic in it so it's a nice, consistent color. The wax is good quality and works great when using double sided tape to secure it. I can't wait to play around with combining other colors with it!
---