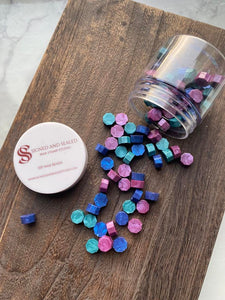 Galaxy Mix Wax Beads
Travel the galaxy with a balanced mix of our Royal Cobalt, Amethyst and Turquoise wax beads. 

Available in 100 pieces. These wax beads are a classic way to make wax seals. Use one colour alone, or marble together for a different look.
Stamping Directions:
Add 2-4 beads to a wax spoon, using a tea light and wax stove to melt the wax. Wait until wax is completely melted, but not bubbling, and pour onto your stamping surface. Add flower petals or foil per your design. Press wax head into the sealing wax and let harden. Remove stamp and trace with metallic marker if you wish.
Wax Beads
To start I watched some lives on TikTok. I asked some questions and was instantly answered. That impressed me that the customer service was good. I ordered some of the mixes to see how I'd like them. I was so impressed with the packaging when they came. It was beautifully packaged. The little jars that the beads came in were perfect. The colour mixes were exactly as displayed. Will definitely order again. My only fault was that they took a little longer to get to me then I had hoped but I'm sure that that was the cause of Canada Post.
Newbie wax lover
Colours are gorgeous. My friends love getting the seals too
---