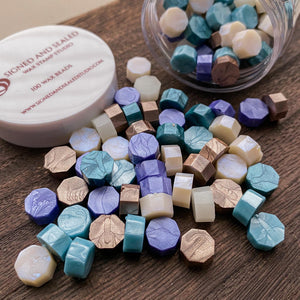 Celestial Mix Wax Beads - Lunar Collection
Our Lunar Collection is finally here!
One jar contains 100 pieces. These wax beads are a classic way to make wax seals. Use one colour alone, or marble together for a different look.

Stamping Directions:
Add 2-4 beads to a wax spoon, using a tea light and wax stove to melt the wax. Wait until wax is completely melted, but not bubbling, and pour onto your stamping surface. Add flower petals or foil per your design. Press wax head into the sealing wax and let harden. Remove stamp and trace with metallic marker if you wish.
Such pretty colours!
Love these wax beads! You can mix any combination of colours, and they blend beautifully. They melt evenly without a waxy smell!
---