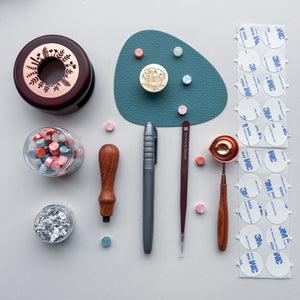 Limited Edition: Summer Wax Seal Box
Our Summer Wax Seal Box is now available - with a limited edition mix of summer-themed stamps and a wax seal, it's the perfect way to make your envelopes stand out. Our new box features exclusive premium tools and accessories that will enhance your crafting projects. This limited edition box includes exclusive items to elevate your creations:
Limited Edition Rose Gold Flower Wax Melt Stove: Combine wax beads over a tea light using our new wax melt stove available for a limited time.

Custom Summer Mix: A unique blend of high-quality sealing wax in vibrant colors.

Rose 30mm Wax Stamp: A brand new floral stamp to add to your summer collection with a rosewood handle.

Silver Metallic Marker: A versatile marker that adds shimmer and elegance to your designs after stamping.

20 Adhesive Stickers: Enhance your wax seals with our adhesive backings to turn your wax seal creations into stickers.

Silicon Mat for Practice: A non-stick mat for perfecting your wax sealing technique that can be used with our adhesive backings.

Rose Gold Spoon with Rosewood Handle: An elegant spoon used to melt or combine wax beads over your wax melt stove.

Silver Wax Foil: Shimmering foils in a range of colors to elevate your seals.

Signed and Sealed Tweezers: Specially designed tweezers for precise control when adding foil, glitter, or foil to your wax seals.
Unlock your creativity with our Wax Seal Summer Box. Elevate your projects and leave a lasting impression with each seal. 
---